May 3, 2020
Julia Haberecht
Ratgeber
Josper
NEW: Services for our Josper customers
Once Josper, always Josper! Once you have cooked with a Josper Grill, you will not want to have another grill. And also the guests love the special aroma of the food from the Josper Grill. To ensure that these high-quality appliances are optimally cared for and maintained, we are now offering our new maintenance service. Our trained staff will come to you, service the grill after consultation, deal with special features and questions and bring the appropriate spare parts directly with you, so that there is no delay. If you are interested, please send us the completed form. The more information we get from you about your Josper, the more accurately we can estimate the effort and cost.
Individual training on site
You have to learn how to use a Josper. Many tips and tricks can be passed on and put the crown on the delicious dishes. Our cook Frank is the absolute professional at the Josper. Years of experience and an unerring sense for the right moment make him the perfect trainer at the grill. Whether for your existing team in the kitchen, to deepen or for new employees, an individual training also gladly with thematic emphasis such as "meat", "vegetables" or "tapas" will always have a positive development. Give us a call and we will be happy to advise you: +49 6051 67777 or fill out the form.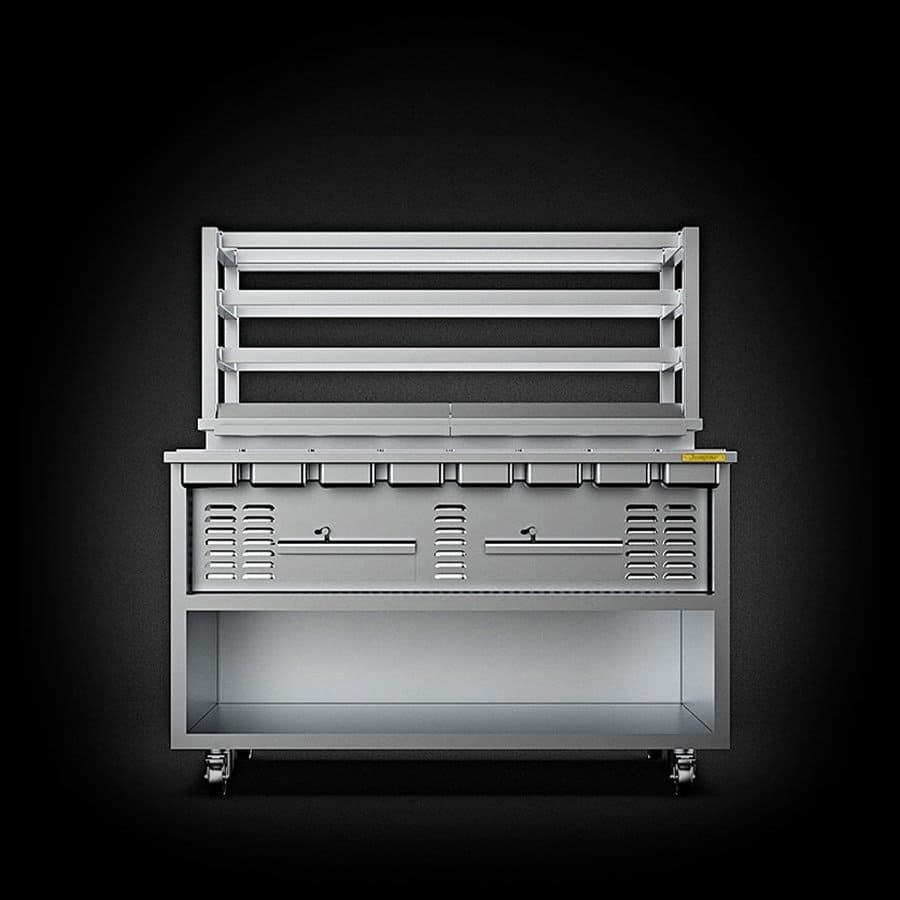 Robata Grill - after Japanese model The Josper Robata Grill is the new charcoal grill for cooking and grilling in the Robatayaki style. The Robatayaki technique comes from the Japanese culture. Fishermen once took small boxes of smoldering coal on the sea and grilled their catch directly on the boat. Then they passed the fish from boat to boat with the help of their paddles.With the Robata Grill by Josper, this Japanese food culture has found its way into the grill scene and is traded as Aston Martin under the grill methods. The secret is the special coal, which burns almost smoke-free and keeps very high temperatures for a long time.Small portions are grilled on skewers over hot charcoal. The Robatayaki technique is particularly suitable for the preparation of meat and fish. With this unique method, the ingredients retain their original taste. Robata Grill for unusual dishes The ancient Japanese grill method is very adaptable and can be easily integrated into European cuisine. Josper supports this kind of preparation with his Robata Grill. The Robata offers several levels for grilling and plenty of accessories for working directly above the charcoal. The result is excellent kebabs, grills, teppanyaki and much more.With the Robata Grill you can create wonderful live events. Your guests will get an insight into the work of the chef on the grill and will be amazed by variety and taste ... a real culinary show. Try out! You are restaurateur or chef and you are interested in a Josper Grill? We offer you the opportunity to cook in our show kitchen with the Josper. Talk to us, we will make an appointment under 06051 67777. Find out in our blog about the next Josper demo or register directly with our registration form.Leasing: possible from 24 to 48 months. JOSPER Robata Grill 1000 from JOSPER Official Site on Vimeo. Robatagrill by Josper from JOSPER Official Site on Vimeo.
Josper Roaster for big challenges The Josper Roaster is a versatile grill for large quantities of meat. Different types of meat can be prepared on its rotating skewers. The function: The innovative roaster can roast 48 to 55 chickens at once over charcoal. But it can also be used to cook rabbit, lamb and piglet. The food can be grilled on six skewers that can be rotated in two functions. The skewers rotate together or individually and can also be loaded with food all at once or only partially. The position of the skewers can also be determined individually. The skewers are rotated electrically by a drum. The Roaster is therefore a real all-rounder in its function and allows cooking in a variety of ways, thus optimally meeting the customer's wishes. To prepare 48 chickens, you need to estimate about 1.15 hours and 20 kg of coal. The roaster has a hot cooking cabinet with 4 trays GN1 / 1 under the drum. Here you can prepare potatoes, onions or other side dishes. Furthermore, the roaster has a hot cabinet that keeps the food warm. Accessories: 6 skewers 4 GN containers 1 shovel 1 grill tongs 1 poker rake 1 air regulation 1 fat pan special design skewers for rabbit, pig, etc. Other versions: Roaster 63 with 6 spits à 630mm for 24 chickens, weight 560kg, outer dimensions 120cm / 120cm, consumption 10-12kg per run Roaster 130 with 6 skewers à 1300mm for 48 chickens, weight 850kg, outer dimensions 190cm / 120cm, consumption 20-22kg per pass. Try it out! Are you interested in a Josper grill and would like to try cooking with it? Call us at +496051 67777 and we will be happy to make an appointment with you. We have installed a Josper in our show kitchen, which you are welcome to put through its paces during a test cooking. If you are interested in a Josper demo, check our blog for the current date or send us a registration form. Leasing: Term from 24 to 48 months possible.
Original Josper charcoal -Ideal for an optimal cooking process on the grill. Josper vegetable charcoal has a high calorific value (8000 kcal/kg) and a long glowing time. The better performance not only reduces cooking times, but also significantly reduces energy consumption. Types of coal: QBE -Quebracho blanco (white Quebracho wood) QA certified 1st quality and original from Josper. 60 bags per pallet (1 bag = 27,5l with ca.9,5-10 kg) = 600 kg per pallet. Pallet dimensions approx. 120 cm x 100 cm x 185 cm (optional half pallets = 30 bags available) calorific value 8000 kcal/kg volatile solids 18% residual moisture 4% solid carbons 80% pieces size 80-160mm Madera de Quebracho Blanco from Paraguay/Argentina density = 280kg/m3 from controlled cultivation packed in very stable and tearproof fabric bags JOSPER Charcoal / JOSPER Carbon Vegetal Ideal for an optimal cooking process on the grill and perfectly matched to Your charcoal grill for perfect, even and long-term temperatures! In part 50% less consumption than standard charcoal due to the extremely high calorific value far less contamination of your chimney or exhaust air systems. The vegetable coal from JOSPER is characterized by the high calorific value and a long burning time. Their greater performance not only reduces cooking times, but also significantly reduces energy consumption. In part, up to 8 hours cooking times 350degrees with one filling at your Josper Practical packaging: Concept, design and weight (approx.9.5kg, 27.5l) of packaging ensure easy handling and storage, no lugging heavy 15-20kg bags. Delivery time: 2-5 days from order confirmation, available all year round, standing orders are available.