June 8, 2020
Jens Hofacker
Ratgeber
Josper Grill
Bayreuth is richer by one Josper Grill
Josper grills are the Ferrari of gastronomic grills. Only the most accomplished chefs in upscale restaurants cook with them. A Josper enriches the menu at any point of the menu. It conjures up antipasti or tapas, also completes vegetarian dishes and gives meat the absolute finishing touch.
From now on you can enjoy dishes from the Josper Grill also in the EILA Tasting Center in Bayreuth. There we have delivered the grill last week. Eila Catering specializes in catering at race tracks. At the Tasting Center, enjoyment and modern cuisine in a hip ambiance are top priorities.
At our start up we took pictures, see for yourself: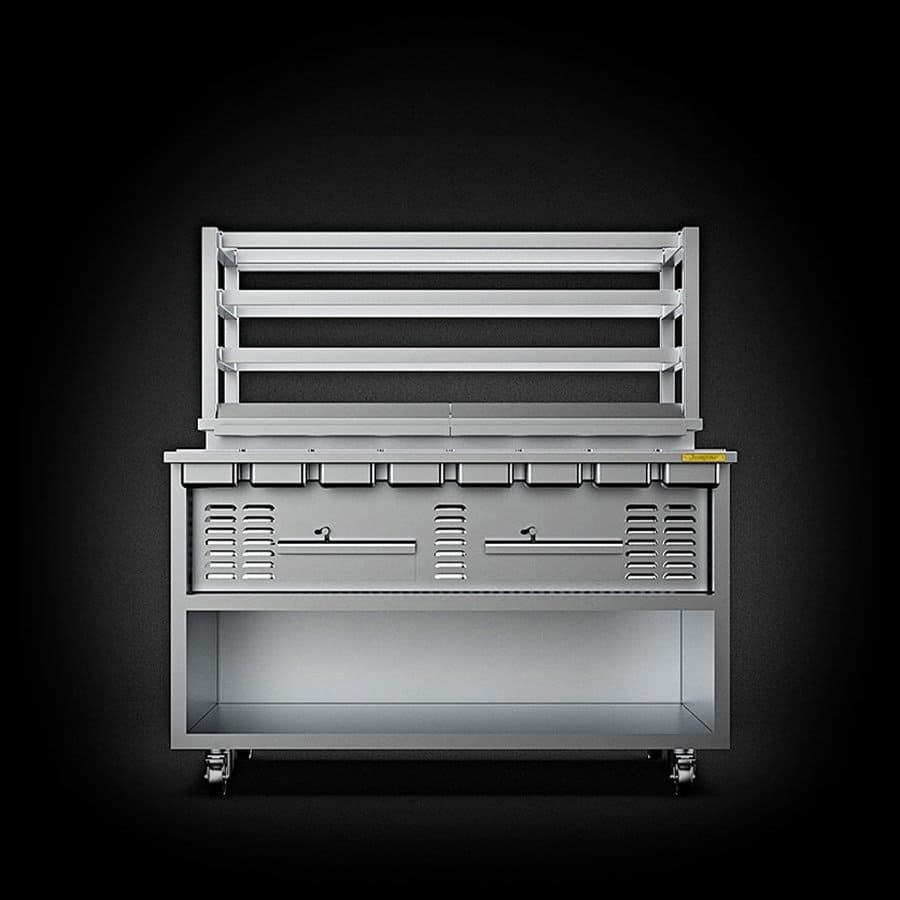 Robata Grill - after Japanese model The Josper Robata Grill is the new charcoal grill for cooking and grilling in the Robatayaki style. The Robatayaki technique comes from the Japanese culture. Fishermen once took small boxes of smoldering coal on the sea and grilled their catch directly on the boat. Then they passed the fish from boat to boat with the help of their paddles.With the Robata Grill by Josper, this Japanese food culture has found its way into the grill scene and is traded as Aston Martin under the grill methods. The secret is the special coal, which burns almost smoke-free and keeps very high temperatures for a long time.Small portions are grilled on skewers over hot charcoal. The Robatayaki technique is particularly suitable for the preparation of meat and fish. With this unique method, the ingredients retain their original taste. Robata Grill for unusual dishes The ancient Japanese grill method is very adaptable and can be easily integrated into European cuisine. Josper supports this kind of preparation with his Robata Grill. The Robata offers several levels for grilling and plenty of accessories for working directly above the charcoal. The result is excellent kebabs, grills, teppanyaki and much more.With the Robata Grill you can create wonderful live events. Your guests will get an insight into the work of the chef on the grill and will be amazed by variety and taste ... a real culinary show. Try out! You are restaurateur or chef and you are interested in a Josper Grill? We offer you the opportunity to cook in our show kitchen with the Josper. Talk to us, we will make an appointment under 06051 67777. Find out in our blog about the next Josper demo or register directly with our registration form.Leasing: possible from 24 to 48 months. JOSPER Robata Grill 1000 from JOSPER Official Site on Vimeo. Robatagrill by Josper from JOSPER Official Site on Vimeo.
Josper Roaster for big challenges The Josper Roaster is a versatile grill for large quantities of meat. Different types of meat can be prepared on its rotating skewers. The function: The innovative roaster can roast 48 to 55 chickens at once over charcoal. But it can also be used to cook rabbit, lamb and piglet. The food can be grilled on six skewers that can be rotated in two functions. The skewers rotate together or individually and can also be loaded with food all at once or only partially. The position of the skewers can also be determined individually. The skewers are rotated electrically by a drum. The Roaster is therefore a real all-rounder in its function and allows cooking in a variety of ways, thus optimally meeting the customer's wishes. To prepare 48 chickens, you need to estimate about 1.15 hours and 20 kg of coal. The roaster has a hot cooking cabinet with 4 trays GN1 / 1 under the drum. Here you can prepare potatoes, onions or other side dishes. Furthermore, the roaster has a hot cabinet that keeps the food warm. Accessories: 6 skewers 4 GN containers 1 shovel 1 grill tongs 1 poker rake 1 air regulation 1 fat pan special design skewers for rabbit, pig, etc. Other versions: Roaster 63 with 6 spits à 630mm for 24 chickens, weight 560kg, outer dimensions 120cm / 120cm, consumption 10-12kg per run Roaster 130 with 6 skewers à 1300mm for 48 chickens, weight 850kg, outer dimensions 190cm / 120cm, consumption 20-22kg per pass. Try it out! Are you interested in a Josper grill and would like to try cooking with it? Call us at +496051 67777 and we will be happy to make an appointment with you. We have installed a Josper in our show kitchen, which you are welcome to put through its paces during a test cooking. If you are interested in a Josper demo, check our blog for the current date or send us a registration form. Leasing: Term from 24 to 48 months possible.